Friday, November 18, 2011
Sierra was the"Star Student" this week at school and today we could bring in a small treat for the class.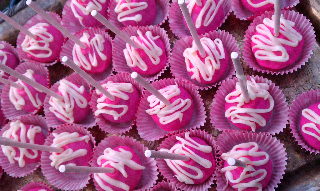 Posted by

Cathe
at 11:06 AM
1 comment:
Links to this post


Friday, November 4, 2011
Posted by

Cathe
at 9:24 PM
1 comment:
Links to this post


Wednesday, November 2, 2011
I decided for Halloween that I would make cake pops for both of my girls classes. For some reason I had a really difficult time this time. My candies would not melt correctly. I added some shortening like Bakerella suggests in her book and then the melted candy would not adhere to my pops...I was very frustrated. I had added the Wilton candy coloring and that may have had something to do with it not melting correctly but I do not know.
To bring the cake pops to class I reused their McDonalds buckets and glued styrofoam to the bottom.
The ribbon I used on the handle was purchased at the 99 cent store.
Anyway...here is the end result:
Posted by

Cathe
at 10:37 AM
2 comments:
Links to this post